March 10, 2022
Kyiv, Ukraine
Within 10 years, Ukraine has achieved significant results in the development of renewable energy: the installed capacity of RES amounted to 9.5 GW as of the beginning of 2022, total investment in the industry - more than $ 12 billion. Due to the Russian war against Ukraine, half of the RES facilities are threatened with complete or partial destruction as of March 11, 2022.
To destroy energy infrastructure - is one of the war tactics of the Russian Federation. The occupiers have already seized the Chernobyl and Zaporizhzhia nuclear power plants, fired at and exposed to air strikes thermal power plants, destroyed electric transmission lines, gas pipelines, fuel storage depots and other energy infrastructure objects.
Ukraine's renewable energy facilities are also at high risk of total or partial destruction. 47% of the installed capacity of renewable energy power plants is located in the regions where active hostilities are taking place. In addition, many RES stations are located in areas adjacent to these areas.
Thus, the vast majority of wind farms in Ukraine were built in the south of the country with the highest wind potential - Zaporizhzhia, Kherson, Mykolaiv, Odesa regions. 89% of the wind farms capacity is located in areas where active hostilities are currently underway, another 9% are located in close proximity to regions with active hostilities. More than half of the wind farms have already been shut down.
37% of ground, 35% of roof / facade solar power plants and almost half (48%) of biomass stations are also located in areas of active hostilities, 34%, 19% and 42% respectively - in neighboring areas with an extremely high probability of hostilities.
The situation is slightly better with biogas stations and small hydropower plants: 29% of biogas plants 16% of small hydropower plants are located in areas of active hostilities.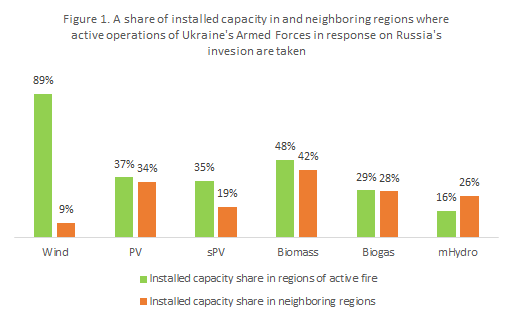 Total investments in the Ukrainian RES sector over the last 10 years amount to $12 billion according to the Ukrainian Renewable Energy Association. As a result of the Russian military invasion, assets worth more than $5.6 billion in capital investment are currently in active hostilities regions. More than $ 3.6 billion in capital investment is in the regions adjacent to the areas where active hostilities are taking place. Accordingly, more than 3,970 MW of RES capacities are in areas of imminent threat of complete or partial destruction. Moreover, more than 2,400 MW are located in areas adjacent to active hostilities, where there is already a high threat of destruction, or some stations have already been destroyed.
Some of RES stations have already been shut down - some of them due to equipment damage, others - because of electric transmission lines destruction. There are registered cases of destruction of wind turbines, solar panels, electrical equipment of RES stations, electric transmission lines, and electrical substations. Soldiers of the Russian occupation forces steal all the equipment from the stations, everything that can be stolen and taken away.
An armed invasion on a peaceful country is a war crime. Given the cost of capital investment, the cost of restoring generation capacity, transmission lines, equipment, compensation for health and lives of renewable energy workers in Ukraine, Ukrainian renewable energy sector will demand compensation from Russian invaders in international courts. Damage caused by the Russian occupiers to all Ukrainian and international businesses on the territory of Ukraine must be compensated through international litigation.